Podcast: Play in new window | Download
City Lights celebrates the release of Chinaka Hodge's Dated Emcees, published by City Lights Books (Sister Spit Imprint). She is joined by Tongo Eisen-Martin & RyanNicole, performing to a standing-room only crowd in the main room.
Chinaka Hodge came of age along with hip-hop—and its influence on her suitors became inextricable from their personal interactions. Form blends with content in Dated Emcees as she examines her love life through the lens of hip-hop's best known orators, characters, archetypes and songs, creating a new and inventive narrative about the music that shaped the craggy heart of a young woman poet, just as it also changed the global landscape of pop.
Chinaka Hodge is a poet, educator, playwright and screenwriter originally from Oakland, California. When not educating or writing for the page, Chinaka rocks mics as a founding member of a collaborative hip hop ensemble, The Getback. Her poems, editorials, interviews and prose have been featured in Newsweek, San Francisco Magazine, Believer Magazine, PBS, NPR, CNN, C-Span, and in two seasons of HBO's Def Poetry.
Born in San Francisco, Tongo Eisen-Martin is a movement worker, educator, and poet who has organized against mass
incarceration and extra-judicial killing of Black people throughout the United States. He has educated in detention centers from New York's Rikers Island to California's San Quentin State Prison. His work in Rikers Island was featured in the New York Times. His latest curriculum on extrajudicial killing of Black people, We Charge Genocide Again, has been used as an educational and organizing tool throughout the country. He uses his craft to create liberated territory wherever he performs and teaches. He recently lived and organized around issues of human rights and self-determination in Jackson, MS.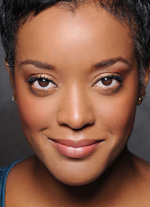 RyanNicole is an artist, actress, activist, athlete and world-renown MC & Poet whose lyrical prowess has been exploited on international stages and web platforms, garnering fans in the thousands across the globe. Her musical compositions include a solo mixtape, entitled Dis'Onance and several collaborative efforts with her group Nu Dekades and other artists. RyanNicole has performed with a wide array of artists and persons of influence, most notably President Barack Obama.