Podcast: Play in new window | Download
City Lights Bookstore welcomes Ralph Nader for the release of his new book, Breaking Through Power: It's Easier Than We Think  published by City Lights Books. Elaine Katzenberger, publisher and executive director of City Lights, opens the event. Matt Gonzalez introduces Ralph who talks about the main thrust of his new book, namely what normal citizens can do, right now, to break through corporate power and make change happen.
In Breaking Through Power, Nader draws from a lifetime waging—and often winning—David vs. Goliath battles against big corporations and the United States government. In this succinct, Tom Paine-style wake-up call, the iconic consumer advocate highlights the success stories of fellow Americans who organize change and work together to derail the many ways in which wealth manipulates politics, labor, media, the environment and the quality of national life today. Nader makes an inspired case about how the nation can—and must—be democratically managed by communities guided by the U.S. Constitution, not by the dictates of big businesses and the wealthy few. This is classic Ralph Nader, a crystallization of the core political beliefs and commitm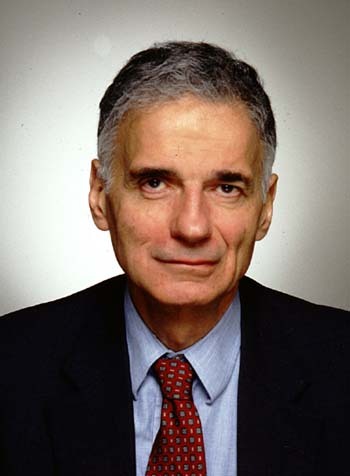 ents that have driven his lifetime of advocacy for greater democracy.
Ralph Nader is a two-time Nieman Fellow who has been awarded for his political activism that focuses in the areas of consumer protection, environmentalism, and government reform causes. His work has been affected the passing of several pieces of legislation, such as  the Freedom of Information Act, the Consumer Product Safety Act, the Foreign Corrupt Practices Act, and the Whistleblower Protection Act. Nader was the subject of the documentary film, An Unreasonable Man, which showed at the Sundance Film Festival in 2006.